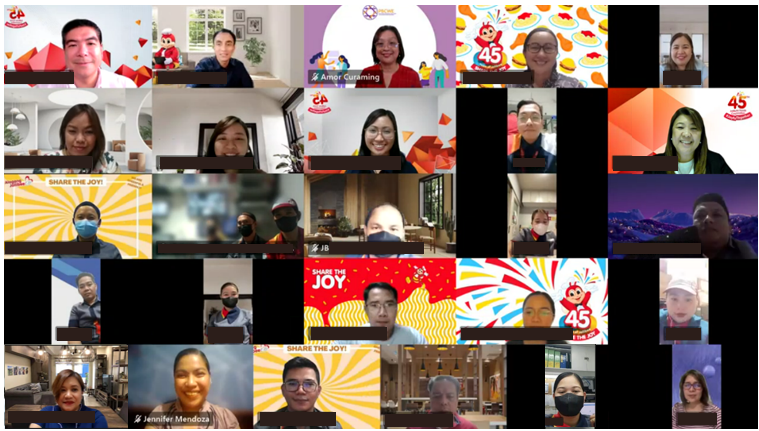 PBCWE Learning and Organisational Development Manager Amor Curaming, and PBCWE Program Manager Jennifer Mendoza spearheaded the training.
20 November 2023 – As part of its efforts to promote a safe and inclusive work environment for its employees and customers, the Jollibee Group partnered with the Philippine Business Coalition for Women Empowerment (PBCWE) and the Employers Confederation of the Philippines (ECOP) in training over 10,000 store teams and employees of the company on anti-sexual harassment in the workplace.
Called "Creating Safe and Respectful Workplaces: A Webinar on Anti-Sexual Harassment and the Safe Spaces Act of 2019," the virtual learning series were conducted from July to September this year for store teams of Jollibee, Chowking, Mang Inasal, Greenwich, Red Ribbon, Burger King, Yoshinoya, and Panda Express, as well as employees from the different support functions and subsidiaries of the Jollibee Group.
Educating employees on relevant policies and laws such as Republic Act No. 11313 or the Safe Spaces Act of 2019 is part of ongoing programs in the Jollibee Group that promote an inclusive workspace, consistent with the company's commitment to championing employee well-being.
"Creating a respectful and inclusive workplace is of paramount importance to us in the Jollibee Group. We are thus delighted to have partnered with PBCWE and ECOP in helping ensure that our people are educated on anti-sexual harassment laws so they can protect themselves and help foster a safe space for others, especially our customers," said Ruth Angeles, Jollibee Group Vice President and Head for Human Resources Philippines and Global Organization, Leadership & Culture.
Timely and relevant undertaking
Based on PBCWE's case study, one in seven women experience sexual harassment at least once every week while 22% of women and 18% of men have experienced sexual harassment at work in the Philippines according to a similar study conducted by Llyod's Register Foundation and pollster Gallup.
In a report, different labor groups are collectively urging the Philippine government to ratify the International Labour Organization Convention 190 (ILO C190) to help eliminate workplace violence and harassment and protect workers in various industries including the food service industry.
The training course is part of PBCWE's module entitled "#ItsNotOkay Anti-Sexual Harassment in the Workplace (ASH)." The module provides companies with the information, policies, and current laws that address and prevent sexual harassment in the workplace.
To find know more about PBCWE's initiatives and work with companies, visit https://pbcwe.com.ph or email us at [email protected].