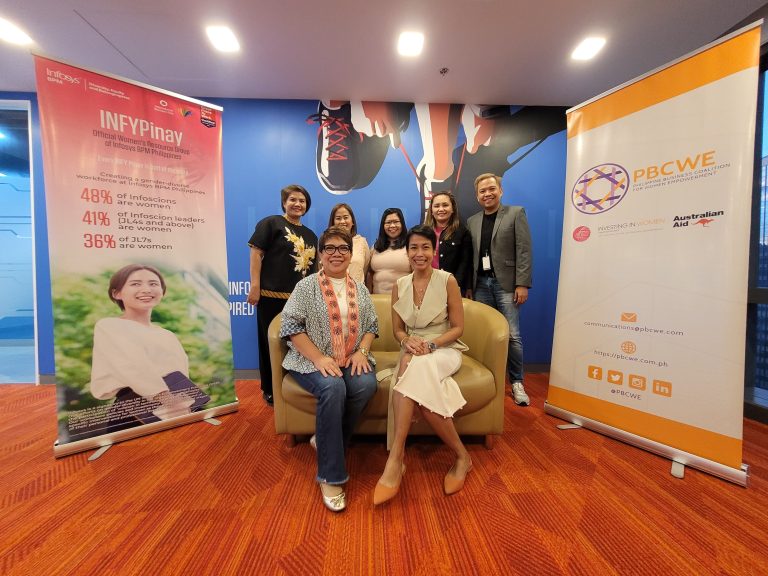 (Top Row L-R) Maya Juwita (Workplace Gender Equality Director, Investing in Women), Jonah Enriquez (Human Resources Lead, Infosys BPM Philippines), Vivian Leyes (Services Head – Client Operations, Infosys BPM Philippines), Aura Guacena (Senior Services Delivery Lead, Infosys BPM Philippines), Christopher Jay Diaz (Communications and Marketing Lead, Infosys BPM Philippines)
(Bottom Row L-R) Ma. Rhodora "Ayhee" Campos (Country Head, Infosys BPM Philippines and Malaysia), and Julia Abad (Executive Director, PBCWE)
25 October 2023, Taguig City, Philippines – Infosys BPM Philippines reaffirms its commitment to strengthen its Workplace Gender Equality (WGE), Women Economic Empowerment (WEE), and Diversity, Equity, and Inclusion (DEI) initiatives by joining the Philippine Business Coalition for Women Empowerment (PBCWE).
For the last 16 years, Infosys BPM Philippines has been steadily growing, providing 24/7 end-to-end, voice, and non-voice services through their IT-BPM, IT service desk, and application development solutions, supporting clients globally. Dubbed #KaInfoscion, the company recruits over 4,000 employees, which represent 47% men and 53% women, and supports 21 nationalities and 11 languages in the country.
A report published by the Asian Development Bank (ADB) highlighted the IT-BPM industry as an important source of employment for college-educated women. Further expansion of employment and improvement of decent work opportunities for them in the industry will require ensuring that they obtain appropriate skills across all categories of present and future IT-BPM activities; measures to increase their entry into the areas presently dominated by men, such as hardware and software technology-based jobs; examining employment practices and the reasons for pay differentials among men and women in various jobs; and enhancing safety and working conditions.
Taking a bigger leap to bolster its WGE, WEE, and DEI commitments, Infosys BPM Philippines led the creation of three (3) employee resource groups (ERGs), namely 1.) #INFYPinay, a women interest group that aims to be an employer of choice for women, increasing their visibility in the workplace; 2) #INFYShine, a Pride network group that supports the implementation of non-discrimination policies for their employees identified as members of the LGBTQIA+ community; and 3) #INFYability, a group dedicated to addressing specific needs towards the recruitment, development, engagement, growth, and retention of employees with disabilities to promote an inclusive workplace.
"For us in PBCWE, gender equality is not a checkbox in the corporate agenda; it is a crucial component of a thriving workplace and a principle that we must embrace wholeheartedly. By taking tangible steps such as joining PBCWE, Infosys BPM Philippines is setting a commendable example for the industry where it operates," said Ma. Aurora "Boots" Geotina-Garcia PhilWEN Founding Chairperson and President, and PBCWE Governing Council Chairperson.
As a PBCWE member company, Infosys BPM Philippines will undergo the Gender Equality Assessment, Results and Strategies (GEARS), a tool developed in partnership with Investing in Women based on the experience of Australia's Workplace Gender Equality Agency (WGEA). GEARS provides companies with the information and resources necessary to start the change process towards gender equality. It evaluates the company's current gender equality strategies, plans future gender equality objectives, and tracks their progress over time.
"It is with great pleasure that we have partnered with PBCWE towards this commitment to empower women and create a more inclusive culture and workplace at Infosys. This collaboration will indeed help us improve our internal policies to continuously promote fairness in our company. As one of the thriving IT-BPM companies in the country, we hope to set an example for others in hopes of strengthening the WGE, WEE, and DEI initiatives in the Philippines," said Ma. Rhodora "Ayhee" Campos, Country Head of Infosys BPM Philippines and Malaysia.
Campos was recognised in the Leadership Commitment category of the 2022 Women's Empowerment Principles (WEPs) National Awards. The said ceremony was supported by the Australian Government's Department of Foreign Affairs and Trade (DFAT), through Investing in Women and PBCWE, as part of UN Women and DFAT's broader strategic partnership in Asia and the Pacific.
To find out more about PBCWE's initiatives and work with companies, visit https://pbcwe.com.ph or email us at [email protected].