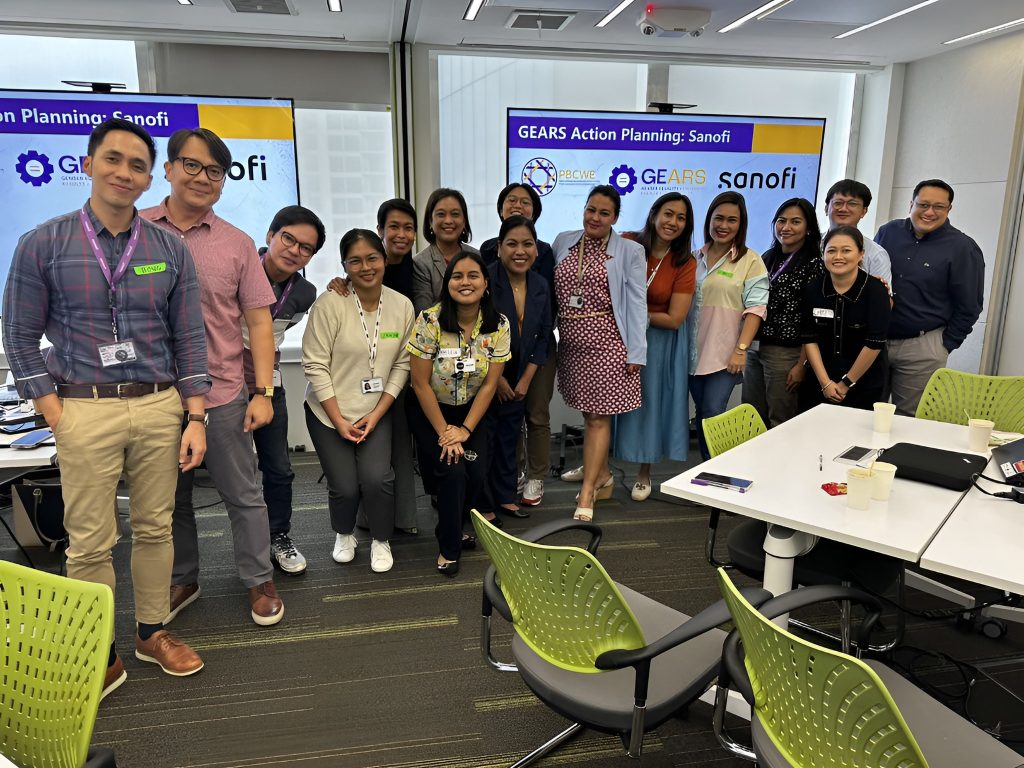 IN PHOTO: Sanofi and PBCWE Teams during the GEARS Action Planning Session held at Sanofi's office in Bonifacio Global City 
16 October 2023, Manila, Philippines – Sanofi Philippines, an innovative global healthcare company and the first company in its industry to become a member of the Philippine Business Coalition for Women Empowerment (PBCWE), has received outstanding recognition for its commitment to gender pay equity. In the recent Gender Equality Assessment, Results and Strategies (GEARS) diagnostic tool conducted by PBCWE, Sanofi Philippines achieved a perfect score of 100% or Leading Practice level.
This remarkable achievement spotlights Sanofi as the first company in the Philippines to openly declare its commitment to gender pay equity. Expressing her enthusiasm about the results, Ms. Janet Yap, General Manager for Sanofi Philippines General Medicine, stated, "At Sanofi, we firmly believe that diversity and gender equality are critical drivers of innovation and success. We are proud to have achieved outstanding scores in the GEARS diagnostic tool, reflecting our ongoing commitment to providing equal opportunities and a supportive environment for all employees."
As part of its proactive initiatives, Sanofi Philippines conducts annual pay gap analysis while effectively communicating its compensation practices. The company places a strong emphasis on promoting diversity in recruitment and advancement by implementing policies, tools, and using inclusive language. Additionally, it ensures equal opportunities by mandating gender-balanced candidate pools and delivering comprehensive gender equality training to all individuals.
The GEARS diagnostic tool evaluated Sanofi across 12 Focus Areas, and the company excelled in various key aspects. Notably, in the recruitment, selection, and promotion category, Sanofi achieved an impressive score of 92%, highlighting its dedication to equitable career advancement for all employees. Furthermore, it attained a commendable score of 75% in workplace gender equality training, underscoring its proactive approach in providing comprehensive gender equality training programs.
PBCWE Governing Council Chairperson Ms. Ma. Aurora "Boots" Geotina-Garcia commended Sanofi's achievements, saying, "Sanofi Philippines has demonstrated exceptional dedication to gender equality in the workplace. Their remarkable scores in GEARS signify their commitment to creating a diverse and inclusive work environment. We applaud Sanofi for their efforts and look forward to their continued contributions in advancing gender equality in the business sector."
Launched in 2020, GEARS is a diagnostic tool developed by Investing in Women, an initiative of the Australian Government, based on the experience of Australia's Workplace Gender Equality Agency (WGEA). It provides valuable insights on workplace gender equality (WGE) strategies, helping companies identify gaps, opportunities, and strengths using 12 Focus Areas such as strategic alignment, leadership, pay equity, flexible work arrangements, and more. GEARS empowers companies to refine action plans and enhance practices in workplace gender equality (WGE). It is an essential tool for companies seeking to evaluate and improve their WGE strategies.
In addition to the GEARS diagnostic tool, Sanofi Philippines has been recognized as a Top Employer in 2023 for the third consecutive year by the Top Employers Institute (TEI), a global authority on recognizing companies for their excellence in people practices. The recognition by TEI further exemplifies Sanofi's commitment to fostering Diversity, Equity, and Inclusion (DEI), in the workplace. ###