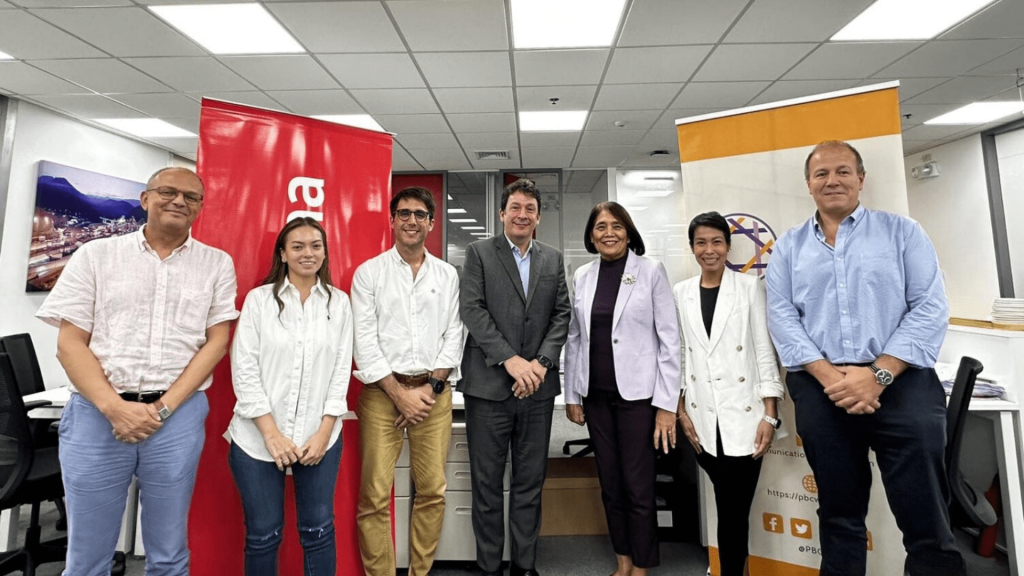 (L-R) Amar Mokrani (ACCIONA Water Regional Director Development); Samantha Betia (ACCIONA SEA Marketing and Business Development); Rafael Fernández-Llebrez Torres (ACCIONA SEA Head of HR); Rubén Camba (ACCIONA Infrastructure Regional Director for SEA); Ma. Aurora Geotina-Garcia (PhilWEN Founding Chairperson and President, and PBCWE Governing Council Chairperson); Julia Abad (PBCWE Executive Director); Julio Ruiz (ACCIONA Philippines Construction Director)
10 October 2023, Makati City, Philippines – ACCIONA, a global group that develops and manages sustainable infrastructure solutions, officially joins the Philippine Business Coalition for Women Empowerment (PBCWE).

PBCWE was launched in March 2017 through a partnership between the Philippine Women's Economic Network (PhilWEN) and Investing in Women, an initiative of the Australian Government. The Coalition is made up of large and influential businesses that committed to take appropriate steps to improve workplace gender equality (WGE) and influence other companies to follow suit. As of September 2023, PBCWE has a total of 40 member companies in its membership circle.

ACCIONA's office in the Philippines is comprised of 391 employees, 22% of which are women. While the company operates in business activities that generally have a smaller presence of women, ACCIONA continues to ensure the promotion of an inclusive culture by providing equal opportunities for all and developing specific programs aimed to attract, retain, and promote talent along the different stages of women's professional careers. Key organisational priorities of ACCIONA include 1) achieving gender-equitable remuneration, 2) extending 50:50 projects to all infrastructure businesses to increase female representation in all activities, and 3) committing to a good work-life balance to promote equality beyond regulatory compliance.

"In PBCWE, our member companies strongly believe that in today's rapidly evolving world, it is imperative that we acknowledge the significant contributions of women in all sectors. ACCIONA's decision to join PBCWE is not just commendable; it is a testament to the company's forward-thinking approach and dedication to create a more equitable and just workplace for your people," said Ma. Aurora "Boots" Geotina-Garcia, PhilWEN Founding Chairperson and President & PBCWE Governing Council Chairperson.

As a PBCWE member company, ACCIONA is committed to undergo the Gender Equality Assessment, Results and Strategies (GEARS), a tool developed by Investing in Women based on the experience of Australia's Workplace Gender Equality Agency (WGEA). The tool is designed for companies to gain a deeper understanding of gaps, opportunities, and strengths of their current strategies in relation to WGE. GEARS, as the flagship offering of PBCWE to its members, is the first step in a company's WGE journey.

"ACCIONA is deeply committed to gender equality, recognizing the vital role of women in our workplace and values that are integral to our corporate culture. Our collaboration with PBCWE aligns with our core values of respect and inclusivity. Together, we aspire to promote gender equality not only within our organization but also to extend our impact across all areas of operations," said Rubén Camba, ACCIONA Infrastructure Regional Director for Southeast Asia.

In 2020, ACCIONA launched a global strategy called "People" as part of the company's Sustainability Master Plan 2025. The strategy aims to invest, attract, and engage the best talent focusing on an inclusive future through four key pillars: recognition, diversity and inclusion, work environment, and leadership. In addition, ACCIONA implements the following initiatives: Global Programme to fast-track women with potential, International Women Acceleration Track (IWAT), and Global Mentoring Programme for pre-executive women.