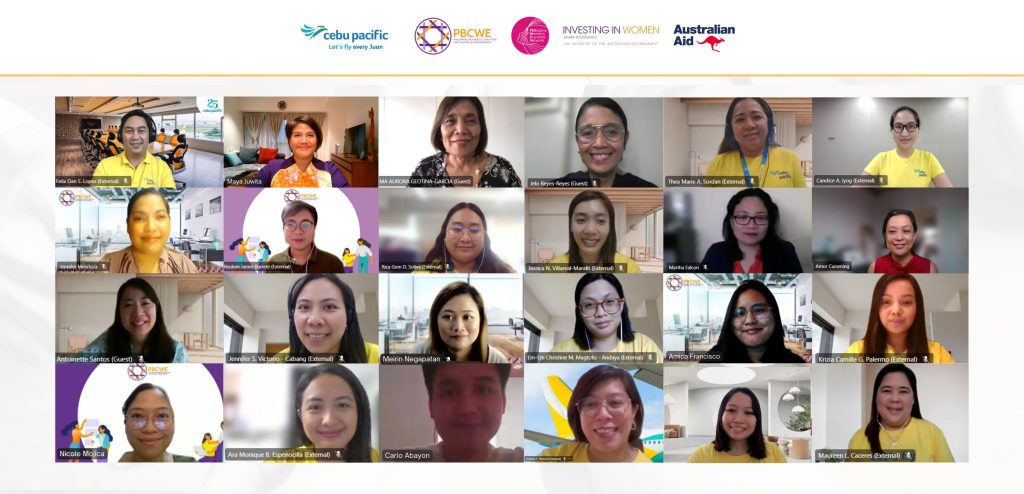 4 September 2023 – Cebu Pacific Air (PSE:CEB), the Philippines' leading airline, is proud to officially announce its membership in the Philippine Business Coalition for Women Empowerment (PBCWE). With 40 member companies to date, PBCWE brings together companies from different industries committed to advancing Workplace Gender Equality, Women's Economic Empowerment, and Diversity, Equity & Inclusion.
PBCWE was launched in 2017 through a partnership between the Philippine Women's Economic Network (PhilWEN) and Investing in Women, an initiative of the Australian Government.
"We, in PBCWE, firmly believe that the private sector is poised to play a more impactful role in promoting diversity, equity, and inclusion across various industries. Cebu Pacific's membership in PBCWE reflects the company's determination to make a positive impact in the airline industry, serving as an inspiration for other organizations to embrace the advocacy as a core value", said Ma. Aurora "Boots" Geotina-Garcia, PhilWEN Founding Chairperson & President and PBCWE Governing Council Chairperson.
As a PBCWE member company, Cebu Pacific is committed to undertake the Gender Equality Assessment, Results and Strategies (GEARS), a diagnostic tool developed by Investing in Women based on the experience of Australia's Workplace Gender Equality Agency (WGEA).
"We're enthused to partner with PBCWE so that we could make bolder and bigger strides in relation to women empowerment, diversity and inclusion, and nurturing our platform, #incluCEBspace," remarked Felix Lopez, Cebu Pacific's Chief Human Resources Officer.
The process consists of two stages that use statistical data collection and 12 targeted Focus Area Analysis. The tool is key to PBCWE's work in gathering data and establishing baselines on the state of gender equality in companies to address barriers through policy reform, capacity building, and communication and engagement strategies.
"Cebu Pacific has always been very intentional when it comes to joining organizations. We only do it when number one, we believe in what the organization stands for, if we believe that it is value adding, both ways, and if we think it is impactful. We also believe that it is in gathering such as this one that we're able to talk about the importance of advocating gender equality and equity in the workplace, not just because this is something that has commercial value to the business, but also because it is the right thing to do. In fact, it is the sustainable thing to do", said Candice A. Iyog, Chief Marketing and Customer Experience Office of Cebu Pacific during the Welcome Event last August 14.
In celebration of Pride Month last June, PBCWE led an online learning session for Cebu Pacific on Embracing Equity and Creating Inclusive Spaces. The session aimed to promote an environment where every team member can bring their authentic selves at work and contribute to thrive and share diverse perspectives. Furthermore, Cebu Pacific launched its inaugural "Pride Flight" which flew from Manila to Boracay and was operated by a crew of LGBTQIA+ members and allies.
For more information, visit: www.cebupacificair.com.