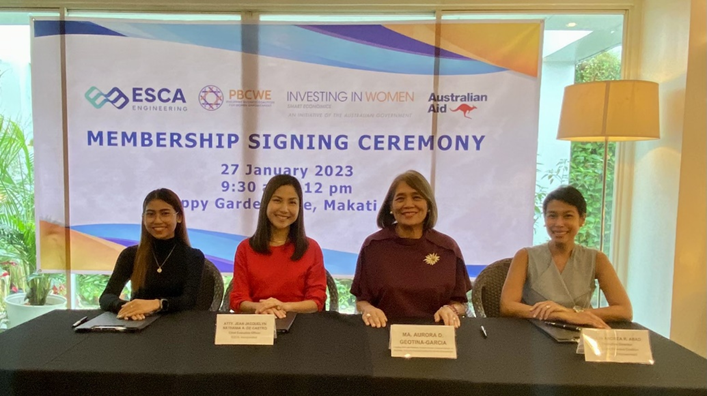 27 January 2023, MANILA – ESCA Inc., a full-service technology-driven engineering consultancy firm, is the newest member company to join the Philippine Business Coalition for Women Empowerment (PBCWE).
Established in 2017, PBCWE is the inaugural project of the Philippine Women's Economic Network (PhilWEN) in partnership with Investing in Women, an initiative of the Australian Government. ESCA joins the roster of Philippine companies in leading efforts towards building a business case for gender equality, creating knowledge on best practices in the workplace, communicating the benefits of empowering women in the workforce, and institutionalising policies based on best practices.
"We warmly welcome ESCA as the first engineering consultancy firm to join our Coalition. The engineering industry remains to have an overrepresentation of the male workforce, which is why ESCA's commitment to increase more women engineers in the field is crucial as we realise the positive benefits of having gender-equal workplaces such as better talent management, higher productivity, increased organisational performance, and improved company reputation," said Ma. Aurora 'Boots" Geotina-Garcia, PhilWEN Founding Chairperson & President and PBCWE Co-Chairperson.
ESCA envisions to increase work opportunities for women and girls in the construction and engineering industry in line with the 2030 UN Sustainable Development Goals (SDGs) and Ambisyon Natin 2040. In 2022, ESCA, through the Council of Engineering Consultants of the Philippines-Young Professionals Forum (CECOPHIL-YPF) took the lead in launching the Women in Engineering Public Survey which focused on key gender issues in engineering, perspectives on how women are perceived in the workplace, and the adequacy of workplace gender equality policies.
"While there are more women engineers entering the workforce than before, they constitute only 25% of the total number of engineers in the Philippines. We often lose women engineers in our team when they have children and need to focus on their families. We want to do something about this because it is important for women to be part of how we plan, design and build. We want to understand the current economic and social barriers to women advancing in the engineering and construction industry. More importantly, we want to identify how we can make the industry an inclusive and safe space for women to thrive and succeed so we can have a stronger voice in the built environment," said Atty. Jean Jacquelyn Nathania de Castro, ESCA Inc. Chief Executive Officer.
PBCWE and ESCA had its first engagement in a virtual webinar on Republic Act 11411 and the Women in Engineering sponsored by the Construction Industry Authority of the Philippines (CIAP) and the Philippine Contractors Accreditation Board (PCAB) held on 11 August 2022. The discussion revolved around the preliminary results of the public survey and how companies in the construction industry can create a more inclusive and enabling work environment, especially for women and girls. ESCA is working closely with PBCWE and identified stakeholders to formally launch the survey results in March 2023 as part of their planned Women's Month activities.
Furthermore, ESCA will undergo the Gender Equality Assessment, Results and Strategies (GEARS), a tool developed in partnership with Investing in Women. GEARS provides companies with the information and resources necessary to start the change process towards gender equality. It evaluates the company's current gender equality strategies, plans future gender equality objectives, and tracks their progress over time. GEARS is the flagship tool offered by PBCWE to its member companies. ###