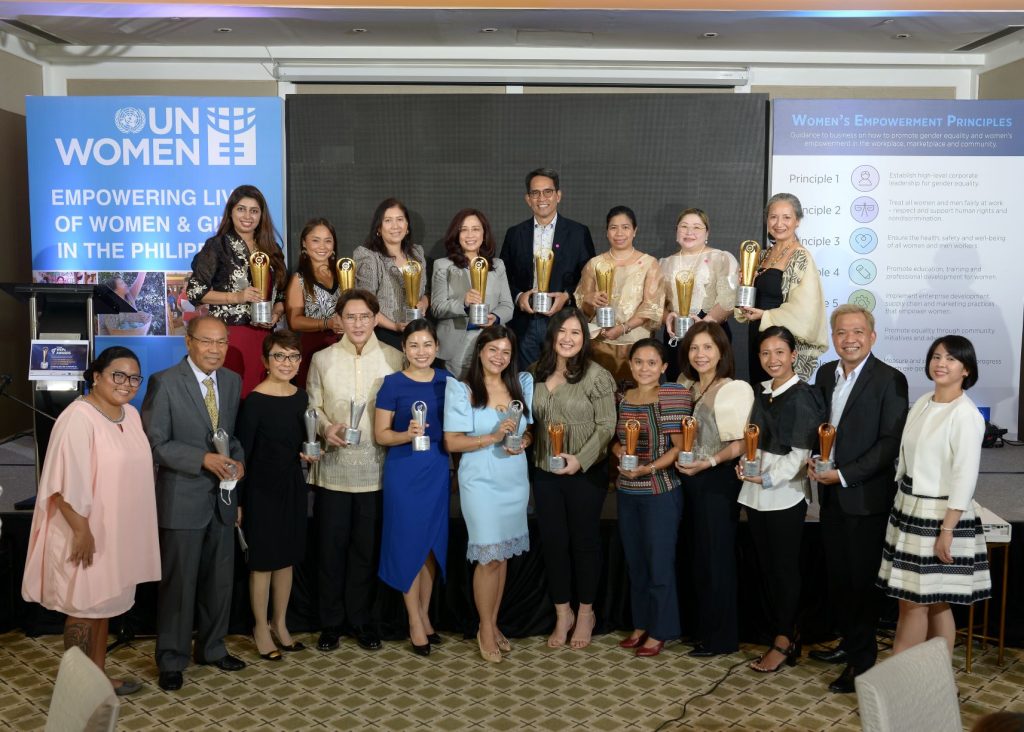 24 October 2022, MANILA – Philippine firms and business leaders championing gender equality and women empowerment were recognized at the 2022 Women's Empowerment Principles (WEPs) National Awards held on 20 October 2022, Thursday, at Discovery Primea, Makati City.
The UN Women WEPs Awards is a national and regional awards initiative that recognizes private sector companies taking action for gender equality in the Asia Pacific region with the ultimate objective to make good practices visible and encourage more businesses to take action by signing the WEPs.
"It is truly exciting to know how this year's winners will be role models for over 7,000 WEPs signatories globally. We continue to draw inspiration from these champions and hope to make space for cross-learning and exchanges at the regional level, where the incredible initiatives from the Philippines are always represented" said Katja Freiwald, UN Women Asia and the Pacific Lead for Women's Economic Empowerment.
The Awards was initiated under WeEmpowerAsia, 2019-2022 UN Women program funded by the European Union. Following a successful partnership with Investing in Women and the Philippine Business Coalition for Women Empowerment (PBCWE) in 2021, the 2022 WEPs Awards was again supported by the Australian Government's Department of Foreign Affairs and Trade (DFAT) as part of UN Women's and DFAT's broader strategic partnership in Asia and the Pacific.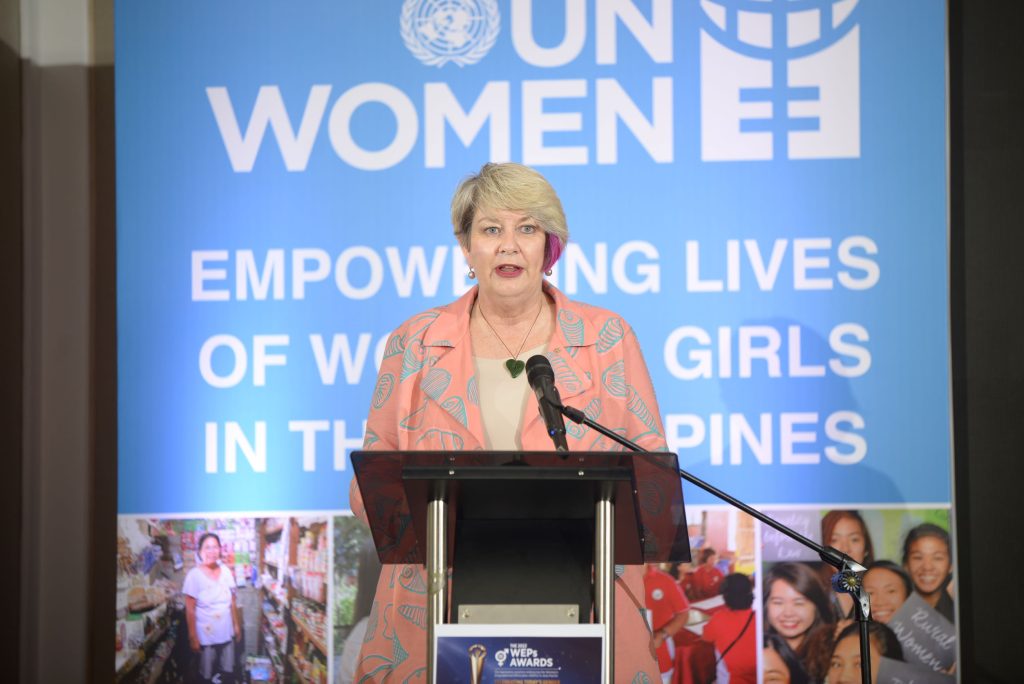 "The Australian Government shares a common goal with UN Women to promote gender-equal workplaces and is proud of the work we do together. The WEPs are an excellent entry point for companies who want to make a commitment to workplace gender equality. The tools within the WEPs are accessible and widely used around the world to provide companies with important insights into workplace gender equality." said Christine Clarke CSC, Australian Ambassador for Women and Girls.
"We are equally proud of the contributions of PBCWE to this work," she added.
Connecting to the ceremony virtually, Atty. Roel Refran, Chief Operating Officer of The Philippine Stock Exchange (PSE), Inc. expressed his support and appreciation to all winners.
"On behalf of the PSE, I sincerely congratulate the winners of the 2022 WEPs Awards. I am also pleased that among those recognized today are publicly-listed companies (PLCs). I hope this will inspire more PLCs to be more active in advocating and adopting policies and practices that promote gender equality and women empowerment in the workplace, as well as in the communities they operate in."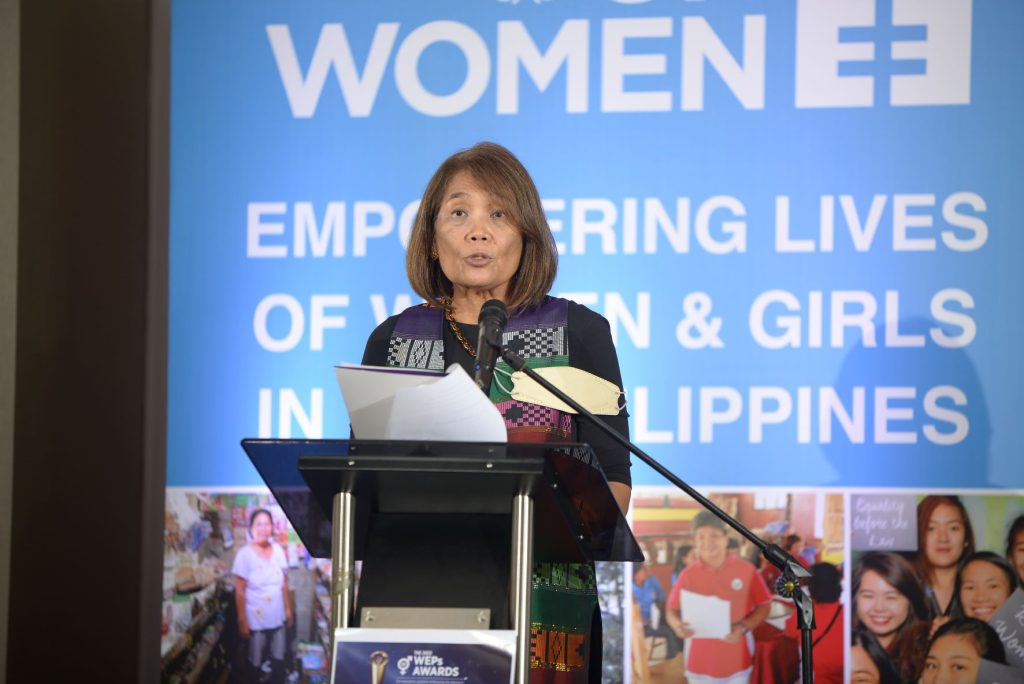 PBCWE Co-Chairperson Ma. Aurora "Boots" Geotina-Garcia encouraged the audience to continue working towards gender-equal work spaces.
"I call upon the winners to continue the good work and inspire others. To the finalists, improve on what you have started as there is always more room for winners. Lastly, to those who have not started their journey, it is never too late," she said.
The 2022 WEPs Awards recognized gender champions and leaders from small, mid-size, and large businesses, as follows:
CATEGORY
RANK
NAME
Leadership Commitment
Champion
BAYO Manila, Inc. – Anna Marie Rojas-Lagon, CEO
1st Runner Up
SM Supermalls – Steven T. Tan, President
2nd Runner Up
Infosys BPM Philippines – Ma. Rhodora "Ayhee" Campos
Gender-inclusive Workplace
Champion
Microsoft
1st Runner Up
Standard Chartered Bank
2nd Runner Up
Concentrix Philippines
Gender-responsive Marketplace
Champion
DDB Group Philippines
1st Runner Up
Unilever Philippines
2nd Runner Up
First Philippine Holdings Corporation
Transparency & Reporting
Champion
Fujitsu Global Delivery Center Philippines
1st Runner Up
Philippine National Bank
2nd Runner Up
Home Credit Consumer Finance Philippines
Community Engagement & Partnerships
Champion
The Insular Life Assurance Co., Ltd.
1st Runner Up
Unilever Philippines
2nd Runner Up
BAYO Manila, Inc.
Youth Leadership
Champion
PanOpthalmics Enterprise – Dr. Sharon Vaswani, CEO
1st Runner Up
Thomson Reuters – Emmanuele Marie C. Parra, Senior Content Specialist and Global Volunteer Network Lead
2nd Runner Up
Empath Corporation – Stephanie Angelica S. Naval, CEO
SME Champion
Champion
TeamAsia
Champion
Edukasyon.ph
###

_______________________________xx_____________________________________
Media Contact:  
Dominique Paranal, Coordination Communications Consultant
Zoya Khanday, International Communications Consultant
Carolyn Guevarra, IW Senior Communications Manager
Antoinette Santos, PBCWE Policy and Communications Specialist