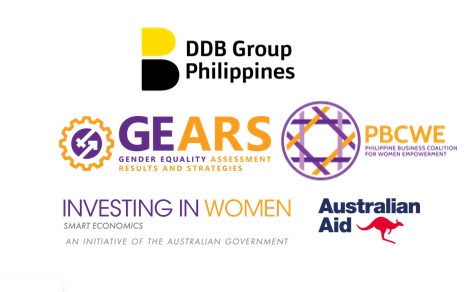 09 February 2022 – DDB Group Philippines, a leading integrated marketing communications group, recently became the first company in the country to undergo the Gender Equality Assessment, Results and Strategies (GEARS) tool of the Philippine Business Coalition for Women Empowerment (PBCWE). PBCWE was launched in March 2017 through a partnership between the Philippine Women's Economic Network (PhilWEN) and Investing in Women, an initiative of the Australian Government.
With GEARS, DDB Group Philippines has shown evidence of strong gender equality policies and practices in place, achieving a score of 100 or leading practice level in nine out of 10 GEARS focus areas. The only focus area yet to progress to leading practice is Workplace Gender Equality training, where DDB nonetheless achieves strategic practice level.
Launched in 2020, GEARS is based on the gender equality diagnostic tool of Australia's Workplace Gender Equality Agency (WGEA), which was adapted to suit the local context by Investing in Women and the business coalitions in the Philippines, Indonesia, Myanmar and Vietnam. GEARS is designed for companies to gain a deep understanding of gaps, opportunities, and strengths of their current strategies in relation to workplace gender equality. Insights and recommendations from the GEARS assessment are then used by the company to fine-tune their action plans and further enhance their WGE practice. PBCWE indicates that a gender-equal workplace exists when everyone, regardless of gender, can equally access and enjoy resources, opportunities, and benefits to thrive and progress at all levels.
The GEARS assessment process consists of statistical data collection and targeted analysis in the following focus areas: Strategic Alignment of Gender Equality and Business Priorities; Leadership and Accountability; Gender Pay Equity; Gender Composition of the Workforce; Mainstreaming Flexible Work for Performance and Support; Preventing and Addressing Gender-based Harassment and Discrimination, Sexual Harassment and Bullying, Domestic and Family Violence; Professional Development, Mentoring, Sponsorship; Recruitment, Selection and Promotion; Talent Management and Succession Planning; and WGE training.
Each assessed company is then categorized within four levels: Meeting Minimum Standards (Score 0-25); Active (26-50); Strategic (51-75); and Leading Practice (76 to 100).
PBCWE Co-Chairperson Ma. Aurora "Boots" Geotina-Garcia said that having the GEARS tool proves DDB Group Philippines' commitment to workplace gender equality, and how it ensures an inclusive work environment and culture for its people.
"We congratulate DDB Group for bravely taking on the GEARS tool and allowing us to look into their HR data and policies for assessment purposes. We are with them in taking this to the next level, that is, achieving their vision of becoming a leading advocate in workplace gender equality, diversity and inclusion in the marketing communications industry," said Garcia.
According to DDB Group Philippines Chief Culture Officer Anna Chua-Norbert, getting excellent results in GEARS, especially on meeting the Leading Practice Standards in terms of Strategies and Policies, is a testament to DDB Group's dedication to providing equal opportunity for all its employees regardless of gender. This is something that the group wants to promote within the advertising and marketing communications industry.
"The unprecedented challenges posed by the pandemic and the heightened awareness around gender inequalities have challenged our teams to work together in finding new ways to create an inclusive workplace where our people feel trusted, valued, and psychologically safe. Having been assessed is a springboard to becoming even better. We thank PBCWE for this opportunity," said Norbert.
DDB Group is currently working on progressing their action plans with PBCWE. And as shown by their GEARS results, the agency group is poised to become a leading advocate in workplace gender equality, diversity and inclusion in the industry.
# # #