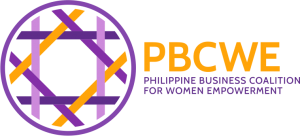 Our Story
The Philippine Business Coalition for Women Empowerment (PBCWE) was launched in March 2017 through a partnership between the Philippine Women's Economic Network, Inc. (PhilWEN) and Investing in Women (IW), an initiative of the Australian Government.
In the Philippines, IW has partnered with the Philippine Women's Economic Network (PhilWEN) to create a business coalition to pursue Gender Equality (GE) in the workplace and Women's Economic Empowerment (WEE) nationwide.
PBCWE is made up of influential businesses that are large employers who will take the appropriate steps to improve gender equity in their own workplaces and to influence businesses, both in their supply chains and other large businesses, and to also become better employers of women.
Founding Members

Executive Team
Ma. Aurora "Boots" D. Geotina-Garcia
PhilWEN Chairperson and PBCWE Co-Chairperson
Victoria "Vicky" P. Garchitorena
PBCWE Co-Chairperson
Julia Andrea R. Abad
Executive Director
Maria Amor C. Curaming
Program Manager
Jennifer Anne Z. Lazo
Communications Manager
Pamela V. De Veyra
Finance and Administrative Manager
Alberto C. Perez, Jr.
Human Resources (HR) Specialist
Ana Marie J. Bobadilla
Program Coordinator
Meirin Marie Jo L. Negapatan
Knowledge Management Coordinator
Antoinette P. Santos
Program Officer